Fixed beam 3-Axis Cnc Gantry Milling Machine is a machine with electric, hydraulic and other advanced technology, mainly for the plane surface, curved surface and hole processing. 3-Axis Gantry Machining Center is widely used in machine tools, military, engineering machinery, mining machinery, printing, mold and other parts of the manufacturing industry.
3-Axis gantry machining center can achieve three-axis linkage movement. 3-Axis CNC Gantry Milling Machine features with reasonable structural design, reliable accuracy, complete supporting, stable quality, reliable performance, easy operation and easy maintenance. According to the user processing requirement,various accessories milling head can be equipped.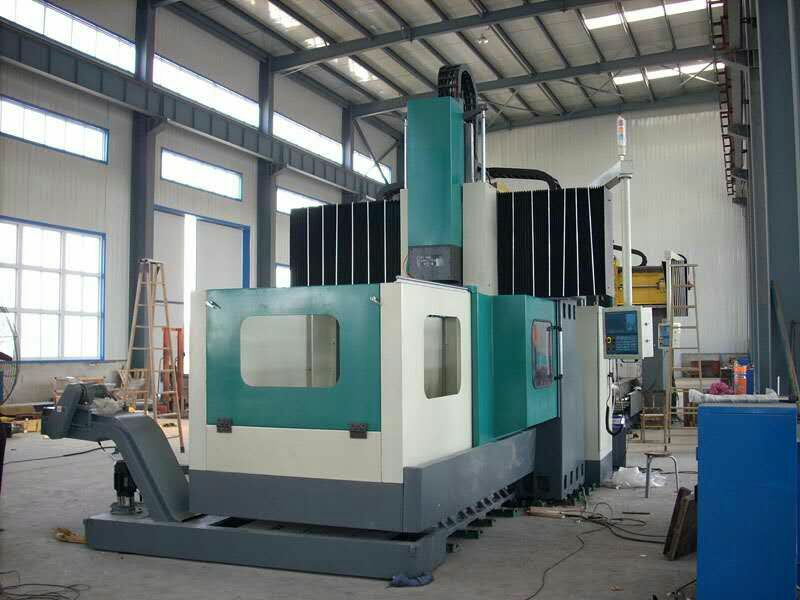 Technical parameters of 3-Axis Gantry Machining Centers 2722HE/3222HE
Table:2700/3200*1700 mm
T slot:22 mm
Maximum load capacity :9000/10000kg
Three axis travel :2700/3200*2200*900mm
Distance from spindle norse to table surface:200-1100mm
Distance between columns:2250 mm
Spindle taper:BT50
Spindle speed :4500/6000,belt type (speed ratio 2:3 or1:1),imported ZF/BF gear reducer can be chosed(Low speed 1:4,High speed 1:1) r/min
Main motor power:22/26KW
Three axis motor:22/22/22 nm
Feed screw:6316/6316/5008 mm
Feed drive:Servo motor is reduced by through the imported gear reduction, and is linked with lead screw by using coupling. X axis 1:4,Y/Z axis 1:3.
Fast feed :12000/12000/8000mm/min
Cutting feed:6000 mm/min
Guideway:
X axis :HGW55HA*2
Y axis :RGW55HA*2
Z axis: HGW55HA*4
Product Categories : Gantry Machining Center