CNC VERTICAL MACHINING CENTERS are widely used in general machinery, spare parts, all kinds of injection mold, die casting production. Its base, column, spindle box, cross sliding table, worktable and other parts were designed with high strength casting technology. The ball screw with high rigidity, gapless coupling, ensure no gap transmission.
Machinery Applications of CNC Vertical Machining Center
1 It can manufacture medium or small type, plate-type, disc-type and shell-type precision parts.
2 Milling, boring, drilling, extending, reaming and tapping etc. Can be made for just fixture.
3 Suitable for small, medium batch production or single part.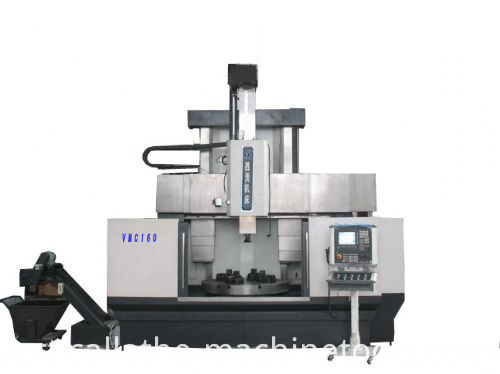 Technical parameters of CNC machining centers VMC250
Table diameter 2250 mm
Maximum machining diameter 2500 mm
Maximum machining height 2000 mm
Maximum loading capacity of table 16 T
Table guideway type Hydrostatic
Turning speed of table 200 r/min
Milling speed of table 0.0002-2 r/min
Maximum torque of table 80 KNm
Section size of Ram Turning 240×240 mm mm
Milling 320×320 mm mm
Maximum travel of Ram Z axis 1250 mm
Rapid travel of head (X,Z axis) 2000 mm/min
Maximum cutting force when machining
Turning 35KN
Milling 50KN
Spindle speed of boring milling 10-2500 r/min
Beam lift speed 360 mm/min
Product Categories : VMC Machine