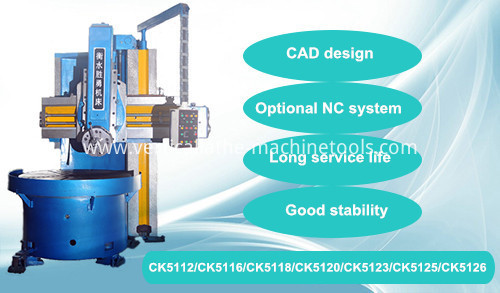 Vertical Turret Lathes model:
C5112/C5116/C5118/C5120/C5123/C5125/C5126
Maximum turning diameter:1250 1600 1800 2000 2300 2500mm
Maximum height of workpiece: 1000/1000/1000/1200/1300/1350 mm
Maximum weight of workpiece 3.2 / 5 / 5 / 6 / 8 / 10 t
Feature of Vertical Lathe Cnc/Vertical Turret Lathe VTL machine/
CNC machine,vertical turret lathe,Vertical Cnc Lathe,all of them adopt SIEMENS or FANUC system. It can be provided on user's requirement.
High-precision gears are with low noise and stable operation.
The work table uses dynamical pressure slide-way and NN30 dual cylinder roller bearing. It features high bearing capacity and revolving precision.
Table size ,loading capacity and machine height can be customized and manufactured as per special request.
The price of Cnc Vertical Lathe for sale is cheaper than others.