VMC CNC Machine adopts mature design and manufacturing technology, and has reached world-class product quality. The Lathe Machine has strict conservation measures of control system to ensure personal and equipment safety.
Vertical turning and milling center VMC Machine has the following features:
Basis of the machine parts and main transmission adopts thermal symmetrical structure with high thermal stability.
Spindle of worktable is using high-precision double row cylindrical roller bearings centering axial thrust bearing using a large ball bearing, with a precision indexing table and feed milling function.
Technical parameters of CNC VMC Vertical Machining Center VMC 315
Table diameter 2830 mm
Maximum machining diameter 3150 mm
Maximum machining height 2000/2500 mm
Maximum loading capacity of table 20 T
Table guideway type Hydrostatic
Turning speed of table 160 r/min
Milling speed of table 0.0002-2 r/min
Maximum torque of table 80 KNm
Section size of Ram
Turning 240×240 mm
Milling 320×320 mm
Maximum travel of Ram Z axis 1600 mm
Rapid travel of head (X,Z axis) 2000 mm/min
Maximum cutting force when machining Turning 35 KN
Milling 50 KN
Spindle speed of boring milling 10-2500 r/min
Beam lift speed 360 mm/min
Power of main motor 55 KW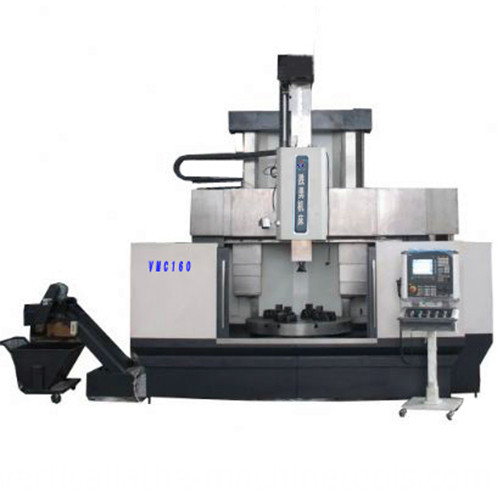 Product Categories : VMC Machine